How does direct mail work?
Sending direct mail is one of our services that we provide. By DM we mean the folding of printed matter and letters, envelope inserting (insteken van documenten in enveloppen), sealen van documenten (verpakken in folie), alternatieve verpakkingen, samenstellen van informatiemappen, inhangen van ringbanden en insteken van documenten in magazines. Ook de grafische afwerking is voor onze direct mail service no problem at all. For example, in addition to "regular direct mailing" we also regularly send creative and engaging interactive direct mail.
Mailing Masters also has the expertise regarding:
• Folding of printed matter and letters
• Envelope Inserting (inserting documents into envelopes)
• Sealing of documents (wrap in foil)
• Alternative Packaging
• Composing information folders
• Embedding of ring binders
• Insertion of documents into magazines
• Postal support
Years of experience sending direct mail
It is becoming increasingly important to approach your target audience(s), constituencies, members, and other types of interested parties in a fun, businesslike, and also creative way. Sending a dm offers possibilities. Don't you want your mail piece or package to be the most eye-catching to your (potential) relations and therefore viewed with a lot of attention? Especially now that it is becoming increasingly difficult to send a digital newsletter, we can support you with the mailing of your traditional newsletter. Because of our extensive experience in this area we can Our Direct Mail Experts provide you with excellent advice in this domain.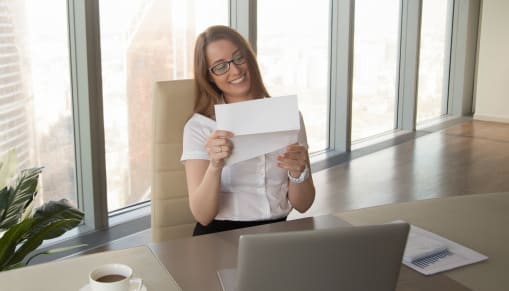 Do you want to know more? Then we will be delighted to inform you about the possibilities of sending direct mailings. We would like to talk to you about your wishes and the possibilities. Based on this we can send you an appropriate quote.
You can also always mail to info@mailingmasters.nl in order to understand more about our direct mailings. Of course we can also be reached by phone for questions about send a direct mailing and the writing of direct mail.
Also for graphic arts finishing
In addition to having years of experience sending direct mailings, we also have Mailing Masters We also have a team of graphic designers who can take care of the finishing touches. You can contact our graphic department for the design of your dm but also for the realization of your mailing. Here you can think of
• Fold and fill Plano information folders with information.
• Bank statement folders folded and provided with binders.
• Fold special leaflets to a desired model.
• Permanent or non-permanent pasting of all kinds of items on a cover or inside of, for example, magazines and/or leaflet material.
• Fill showcase bags with information
• Perforating and hanging in ring binders course materials, reference books and other information.
• Assembling and filling (counter) displays, action packages.
• Counting and bundling by fixed numbers.
• All other things where you have a shortage of "hands"!
You can choose biodegradable foil from us
We also work with fully biodegradable foils. We use two types of plastic film:
1. Polybio (corn)
Polybio is a completely biodegradable and compostable foil. It is a film based on PLA (polylactic acid) materials, which are extracted from corn. Already during the production of the foil 30 to 50% energy is saved. This has enormous advantages for the environment, even at the production level. Moreover, PLA is fully convertible into CO2 and H2O in an environment of natural micro-organisms. The film is exceptionally transparent and has a high gloss.
2. BIO-01 (starch)
BIO-01 foil is a fully biodegradable and compostable foil. It is a film based on potato starch. The film is matt, almost non-transparent and very flexible.
Direct Mailing Costs
The cost of a direct mailing relies on many factors. Do you want to You mailing fromA to Z outsourcing or do you want to take care of part of it yourself. Of course, volume, planning and labor intensity play an essential role in determining the price of a Direct-marketing campaign. Would you like to know what a direct mailing would cost you? Then ask for a quotation
Other services we provide